Instruction for Participants
For Participants
Registration
The registration desk will be open at 1st floor, Nagaragawa Convention Center.
Open Hours
[Day1]
6/11 (Mon)
16:00 -
[Day2, Day3]
6/12 (Tue), 6/13 (Wed)
8:00 -
[Day4, Day5, Day6]
6/14 (Thu), 6/15 (Fri), 6/16 (Sat)
9:00 -
Abstract Book
Abstracts will be available only in PDF file. (Printed abstract book is not provided.) Please download it from the website before the conference or see it in online.
Breakfast
Breakfast is not provided by the 25th ICSPR.
Please have it beforehand by yourself.
Lunch
A lunch box will be provided at "Foyer" which is in front of the main hall.
You can eat or drink at the Large Conference Room in 4th floor, or around meeting rooms using chairs or sofa in each floor. You can also use the seats back than center aisle in the main hall for eating and drinking.
Excursion "Ukai Tour"-[Day4] 6/14(Thu)
Please arrive at Cormorant Fishing Viewing Boat Office by 18:30 and be on board sequentially during 18:30 - 19:00. After all the boat has departed, you cannot be on board. Please come to the office by the time.
We are preparing light meal, but you can also bring foods and drinks by yourself.
Smoking
Please go to designated areas for smoking.
Information Board
We will announce updated information at the information board near registration desk.
Parking
Please use underground parking lot (a toll parking) of Nagaragawa Convention Center and Gifu Miyako Hotel.
Speaker Instructions
We request you to bring your own laptop computer and adaptor for oral presentation. You can use both HDMI cable and VGA cable for connection. We also suggest you bring a back-up of your presentation on a USB drive, in the case of any unforeseen problems.
Speakers are asked to arrive at the main hall at least 20-30 minutes before the start of the session to ensure that the audiovisual technician has the appropriate amount of time to hook up your laptop for your presentation.
Speakers sit in the front row of the session and approach the lectern in turns as the Chair of the session introduces each presentation.
Speakers must adhere to their allotted time for speaking and answering questions, as a courtesy to other speakers and the audience. Speakers are allotted 30 minutes (25 min. for presentation and 5 min. disscussion) or 15 minutes (12 min. for presentation and 3 min. disscussion).
Posters
Poster sizes 90cm X 120cm.
Please display your poster in the poster board that has the poster number, which can be found on the program.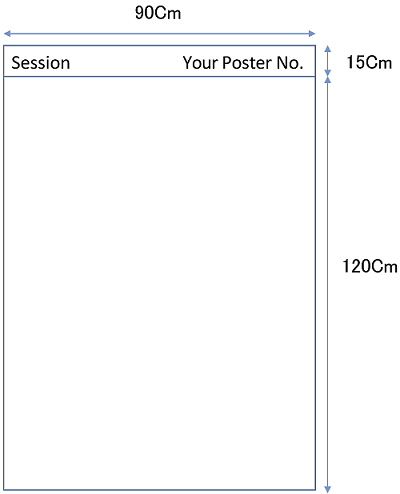 Important announcements about posters
Please plan your poster to be no more than 90 cm wide X 120 cm height.
Poster sessions will be held at the Large Conference Room in 4th floor and the International Conference Room in 5th floor.
Please mount your posters from 16:00 to 21:00 on Monday, June 11 (Day 1) or from 8:00 to 16:00 on Tuesday, June 12 (Day2).
The first poster session will be held on June 12, 2018, between 17:15-19:15. At that time, odd-number presenters should stand by your poster.
Poster session two will be held on June 13, 2018, between 17:15-19:15. At that time, even number presenters should stand by your poster.
Please remove your poster by 10:45 on Saturday, June 16 (Day 6). We will close the poster rooms after 11:00.
Best oral and poster awards for students or postdoctoral researchers
The IASPRR and the organizing committee of the 25th ICSPR present one oral and three poster awards to students or postdoctoral researchers.